And just got another email: Madeline Lehmann got the Alberta Graduate Excellence Scholarship. Congratulations Madeline (Nov 17, 2023)
Happy to share wonderful news: the newest MSc graduate from our lab, Kallum McDonald, is the winner of the 2023 ALES Graduate Student MSc Thesis Award. Congratulations and well done, Kallum. (Nov 16, 2023)
Some of us attended the CSPB2023 AGM. A fanstastic conference and trip, and some of us got awards. Congratulations.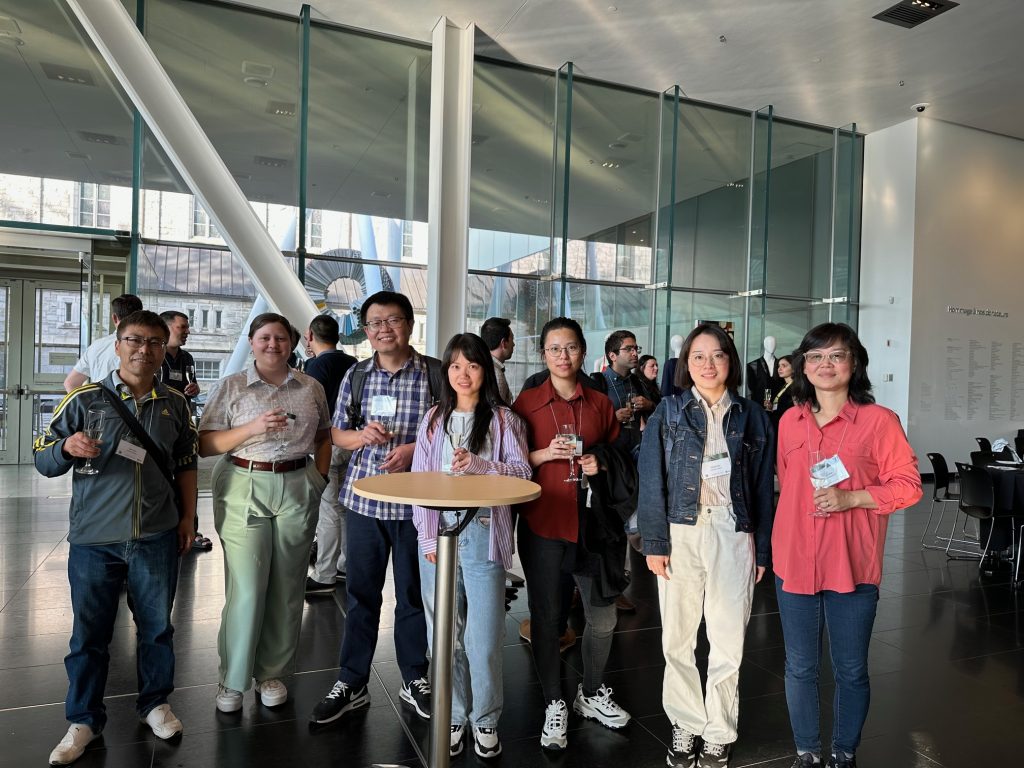 Welcome our new postdoc fellow, Dr. Khadim Hussain.
Welcome our new lab members Tharangani and Elias.
group photos on June 30, 2023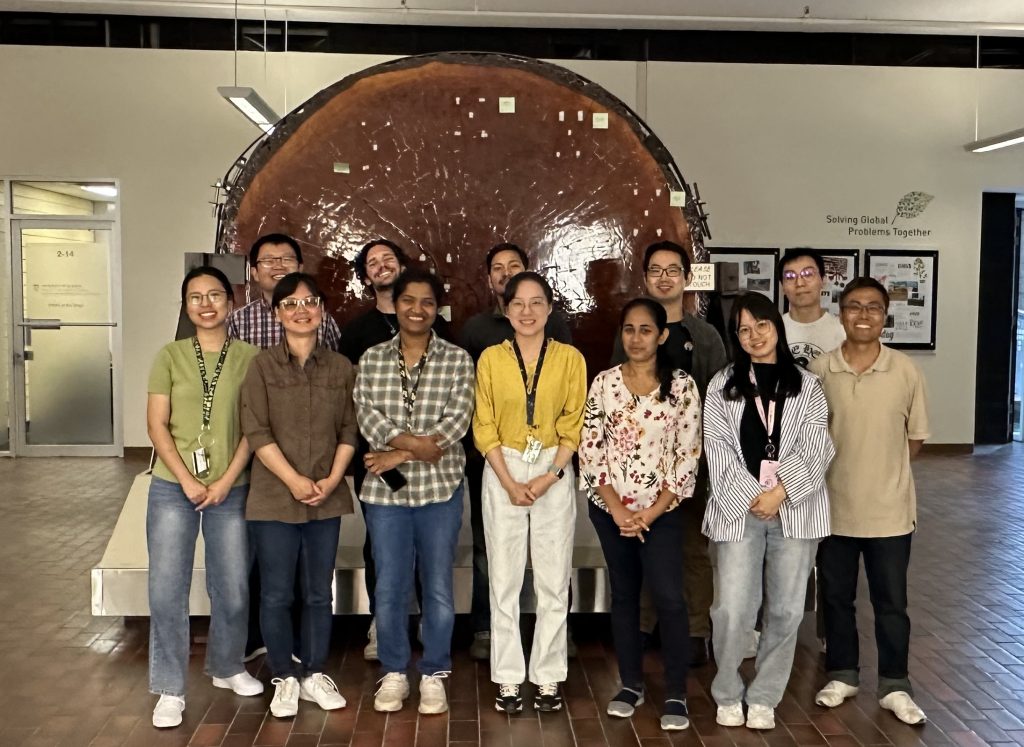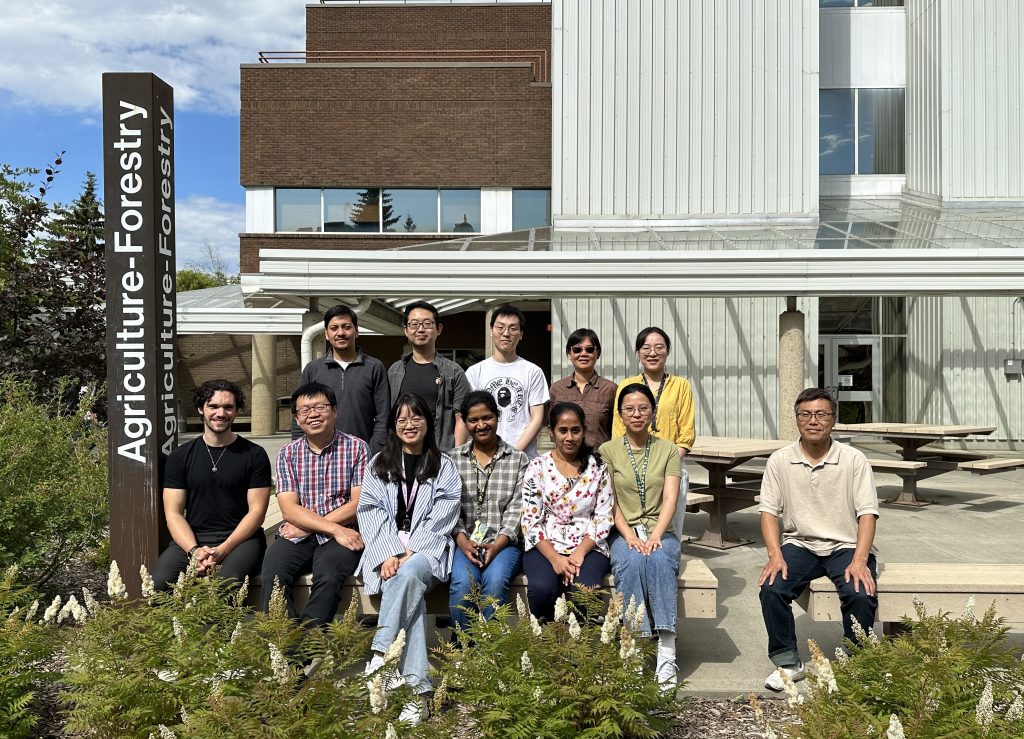 Kallum passed the MSc defense. Congratulations!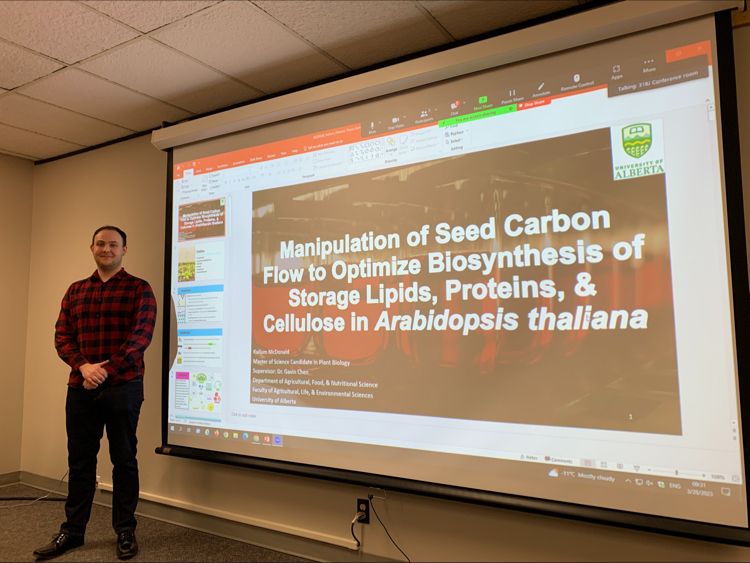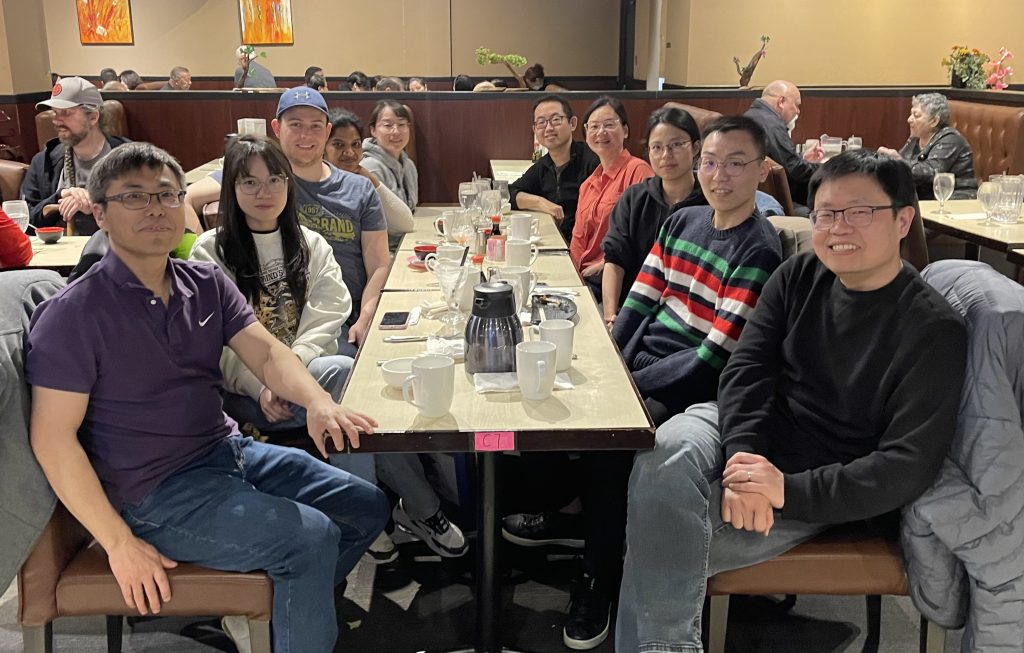 Holiday group lunch. Dec 2022 🙂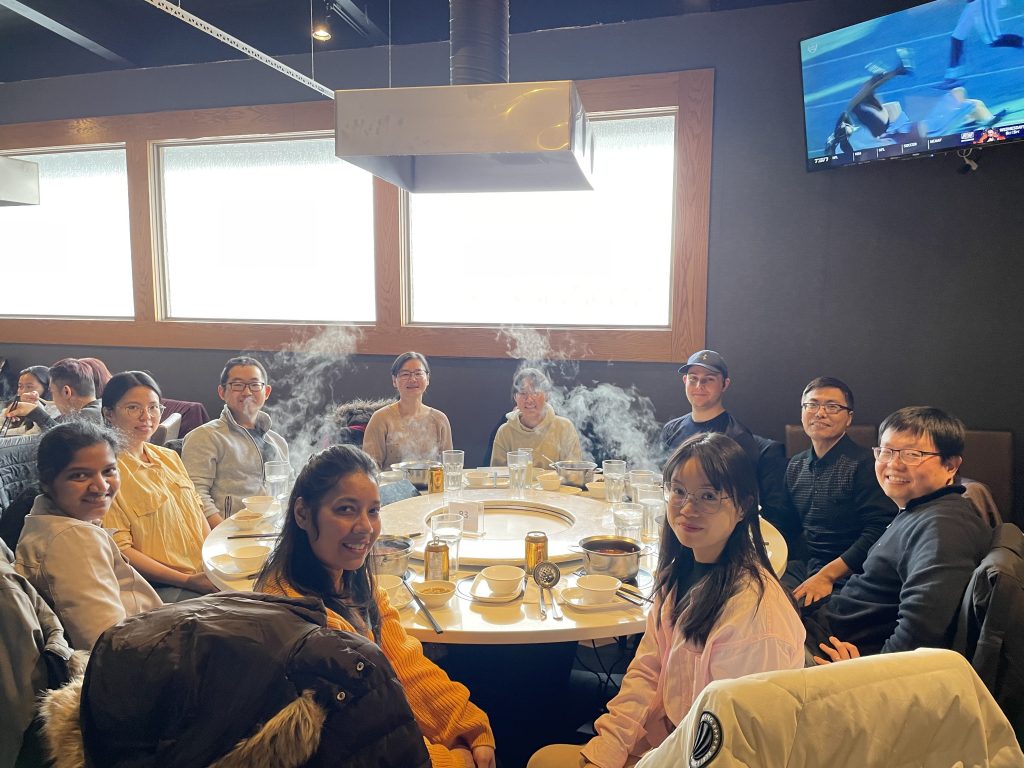 Farewell group lunch for Siyu. Thank you and it's fun to do research together. Oct 2022. 
Yingyi just passed the MSc defense. Congratulations.
Thank you Brock for the great contribution to our team!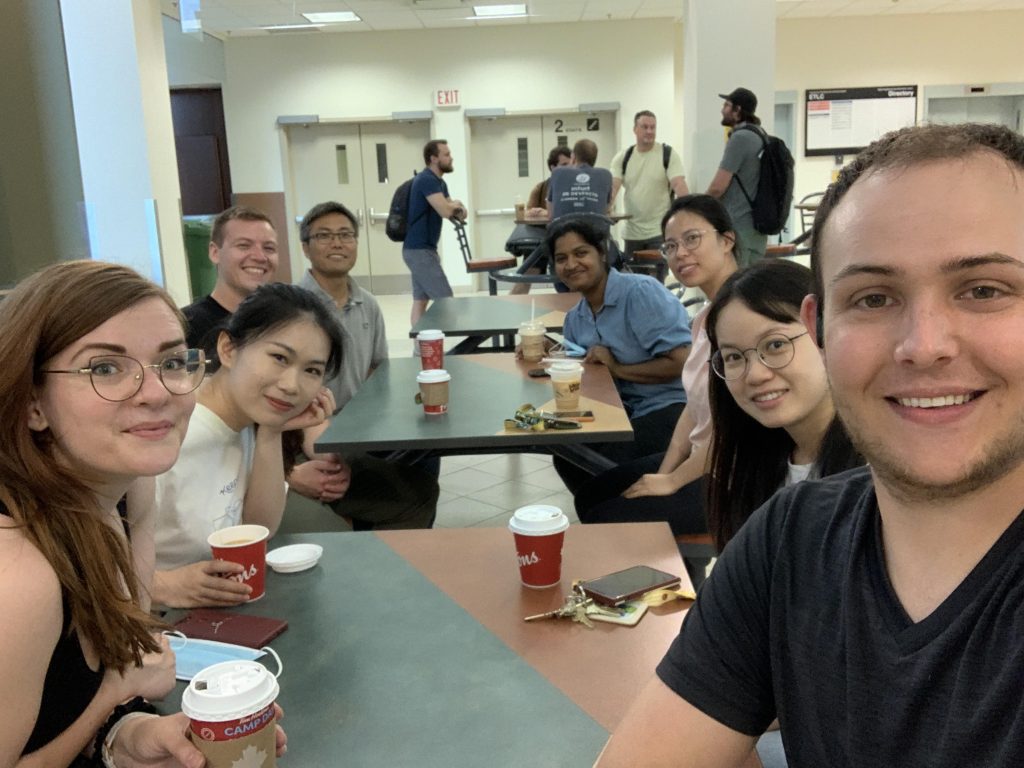 Feb 17, 2022: Lucas visited us today. 
Time flies. All people are young, but some people are younger than others (Others = the ones in the photos on the wall) 😛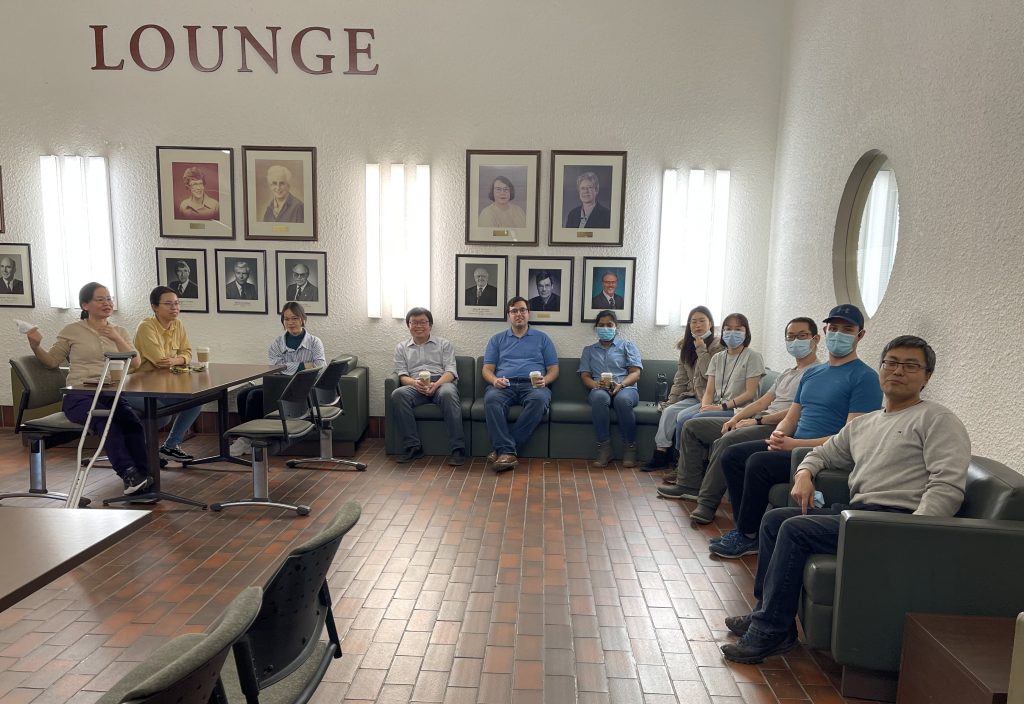 Photos are taken in the pandemic [  🙂  and  🙁  ]. It's a pity we could not organize a farewell party for Elias.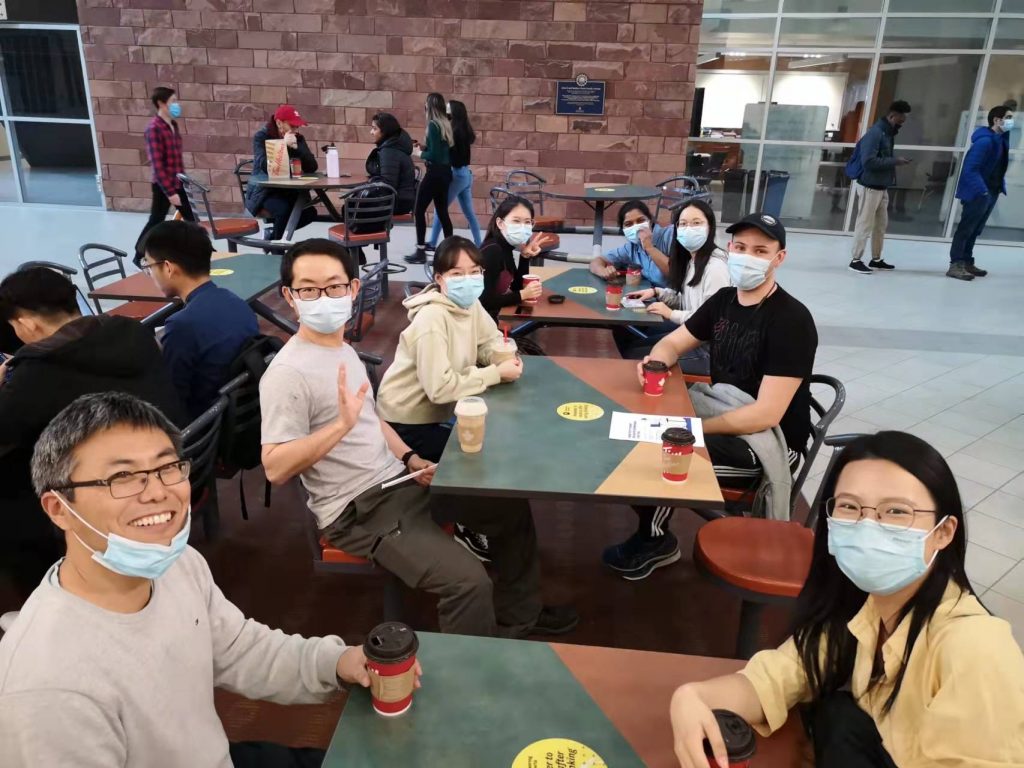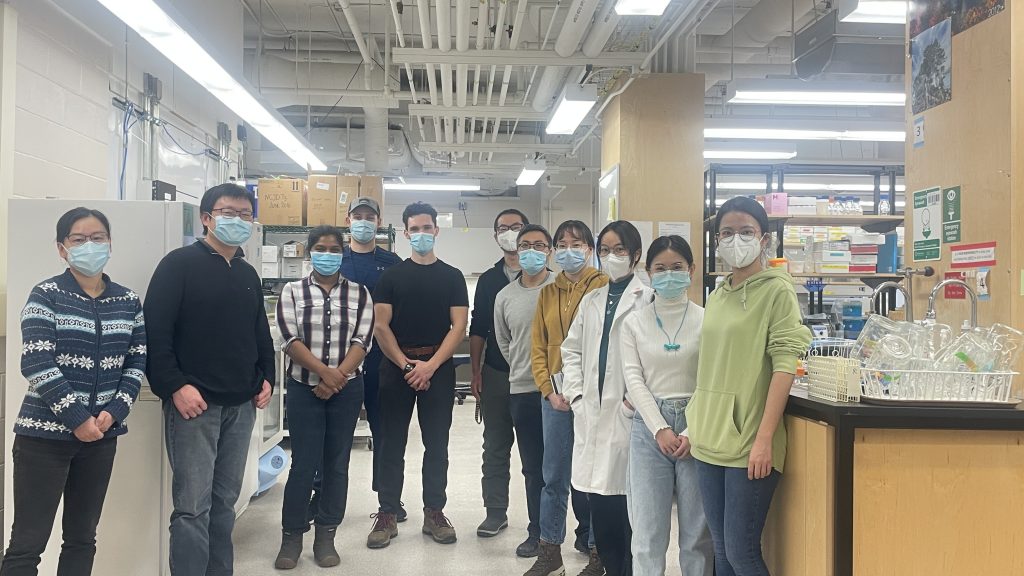 Dr. Yang (Sarena) Xu accepted a Tenure-Track Assistant Professor offer from the University of Guelph. Congratulations! (April 2021)
Happy to know that former Postdoctoral fellows Yang (Sarena) Xu and Kristian Caldo are awarded the prestigious Carl Douglas Postdoctoral Prize (2021) from the Canadian Society of Plant Biologists and NSERC postdoctoral Fellowship, respectively. Congratulations. (March 2021)
Sarena's ACBP-DGAT paper was selected as the featured article of the issue (May 2020).[link]
Yingyu's patatin-like phospholipase A paper was selected as the cover of the Dec 2019 issue by Plant Molecular Biology (Dec 2019) [link

]
Sarena's transferase interactome paper was selected as the featured article of the Oct 11, 2019 issue by JBC (Oct 2019)
The illustration of our article "Transferase interactome that may facilitate channeling of polyunsaturated fatty acid moieties from phosphatidylcholine to triacylglycerol" has been selected as the cover of the Oct 11, 2019 issue by the Journal of Biological Chemistry [link].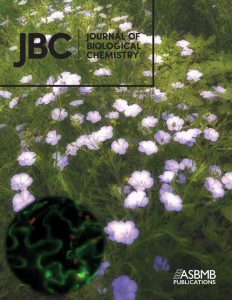 Kristian's CCT1-SnRK1 paper in JBC was recommended in F1000Prime (Sept 2019).
Our article: Rabidness CTP:phosphocholine cytidylyltransferase 1 is phosphorylated and inhibited by sucrose nonfermenting 1-related protein kinase 1 (SnRK1)., The Journal of Biological Chemistry, 2019 (DOI: 10.3410/f.736484326.793565055), has been recommended in F1000Prime as being of special significance in its field.
Click the badge for more information:  
Our lab is recognized as one of the outstanding examples of safe work spaces (Gold Stars) on campus in 2019.
Thank you everyone for keeping our work space safe. Safety first. https://www.ualberta.ca/risk-management/insurance-and-risk-assessment/loss-prevention
Our DGAT variant paper was selected as the featured article and research highlight of the issue (2017). [link]
Lucas Falarz passed his MSc exam on May 31, 2019. Congratulations.
Lucas started his MSc study on January 1, 2017 and submitted his thesis on May 7, 2019.
Up to now (June 2, 2020), Lucas has published two first-author papers in the Plant Journal and Lipids, respectively, one co-first author paper in Journal of  Biological Chemistry, two co-author papers (Plant Journal and Journal of Agricultural and Food Chemistry), and three 1st-author book chapters in Plant Bioproducts. He will be a co-first author of another paper in the future for his tremendous contribution.
Thanks a lot for your contribution to our lab Lucas. Your independence, self-motivation, and professional style are so impressive. You are a great team player and set a very high bar here. 
Trinh Nguyen passed her MSc exam on Nov 14, 2018. Congratulations. 
Trinh started her MSc study on September 1, 2016, and submitted her thesis on October 15, 2018. Her 1st-author paper was published in Lipids. https://www.ncbi.nlm.nih.gov/pubmed/31879987
Thank you for bravely being the first research assistant and then the first graduate student in our lab Trinh. Many thanks for your contribution. We miss your super sunny smile.
TRAINEES' AWARDS – CONGRATULATIONS!
Madeline Lehmann

– Alberta Graduate Excellence Scholarship, 2023-2024

Kal

lum McDonald

– 2023 ALES Graduate Student MSc Thesis Award
Madeline Lehmann – Honourable Mention for the Presidents' Award, poster, The Canadian Society of Plant Biologists Conference, 2023
Madeline Lehmann – George H. Duff travel bursary CSPB 2023 annual conference, 2023
Madeline Lehmann – Robert Simonet Graduate Scholarship, 2023
Mianmian Zhu – ThermoFisher poster award, The Canadian Society of Plant Biologists Conference, 2023
Mianmian Zhu – George H Duff Travel Bursary, The Canadian Society of Plant Biologists Conference, 2023
Xiaoyu Wang – George H Duff Travel Bursary, The Canadian Society of Plant Biologists Conference, 2023
Kallum McDonald – Dr Bruce Jeffery Canola Travel Award – Master's Level 2022/23
Kallum McDonald – Robert Simonet Graduate Scholarship, 2022/23
Kallum McDonald – Robert Simonet Travel Award – Master's Level 2022/23
Kallum McDonald – Simone Demers-Collins Graduate Travel Scholarship in Agriculture 2022/23
Mohammed Mukthar – The 1st place prize in Poster Presentation, Joint Annual General Meeting, Canadian Weed Science Society & Canadian Society of Agronomy, 2022
Mohammed Mukthar – Ali Navabi Grad Student Travel award, Canadian Society of Agronomy, 2022
Juli Wang – Professor JB McQuitty Graduate Scholarship 2022/23
Juli Wang – Bern and Donna Kotelko Travel Award in Bioresource Excellence, 2022
Juli Wang – Alberta Innovates Graduate Student Scholarship, 2022-2023
Juli Wang – Donald A Shaw Memorial Graduate Scholarship 2022/23
Juli Wang – Dr Michael E. Stiles Graduate Scholarship in Applied Microbiology 2022/23
Xiaoyu Wang –  Alberta Canola Producers Graduate Award in Canola Production Research, 2022
Mianmian Zhu – Bern and Donna Kotelko Travel Award in Bioresource Excellence, 2022
Udaya Subedi – Graduate Student Travel Award 2023/24
Udaya Subedi – Helen & Fred Bentley Forage Crops Graduate Scholarship in Agricultural, Life & Environmental Sciences 2022/23
Udaya Subedi – Henry Kroeger Memorial Graduate Scholarship 2022/23
Udaya Subedi – Robert Simonet Scholarship – Doctoral Level  2022/23
Kallum McDonald – Member of The Canadian Agricultural Youth Council, 2022-2023
Kallum McDonald – The 1st place on the student's oral presentation, Canadian Association for Plant Biotechnology 2022 Conference
Kallum McDonald – Travel award, Canadian Association for Plant Biotechnology 2022 Conference
Kallum McDonald – Travel award, Canadian Association for Plant Biotechnology 2022 Conference
Kallum McDonald – Canadian Society of Plant Biologists Waygood Award – – Canadian Society of Plant Biologists west regional meeting, 2021
Kallum McDonald – the best oral presentation – Canadian Society of Plant Biologists west regional meeting, 2021
Kallum McDonald – ALES travel grant, 2021
Juli Wang – Alberta Innovates Graduate Student Scholarship, 2021-2022
Juli Wang – Professor JB McQuitty Graduate Scholarship 2021/22
Siyu Wang – CSC Scholarship for Visiting Student, 2021
Xiaoyu Wang – CSC PhD Scholarship, 2021
Mianmian Zhu – Alberta Canola Producers Graduate Award in Canola Production Research, 2021
Mianmian Zhu – Guelph Food Technology Centre (GFTC) Legacy Fund Scholarship, 2021
Sandhya Gautam – Molly and Spencer Dier Memorial Scholarship 2021
Kethmi Jayawardhane Agrisera Award in the Canadian Society of Plant Biologists annual meeting, 2021
Udaya Subedi – Alberta Innovates Graduate Student Scholarship 2020/2021; 2021-2022
Udaya Subedi – Canadian Society of Plant Biologists Annual Meeting Award, 2021
Udaya Subedi – Henry Kroeger Memorial Scholarship, 2021
Mianmian Zhu – CSC PhD Scholarship, 2021
Mianmian Zhu – University of Alberta Doctoral Recruitment Scholarship, University of Alberta, 2021
Xiaoyu Wang – University of Alberta Doctoral Recruitment Scholarship, University of Alberta, 2021
Qiong Xiao – Alberta Canola Producers Graduate Award in Canola Production Research, 2020
Udaya Subedi – Alberta Innovates Graduate Student Scholarship 2020-2021
Udaya Subedi –Western Grains Research Foundation Graduate Scholarship, 2020
Qiyuan Shan – CSC Scholarship for Visiting Student, 2019
Kethmi Jayawardhane – Plant Pathology Society of Alberta Scholarship, 2019
Kethmi Jayawardhane – Best Student Presentation Award at the 40th Plant Pathology Society of Alberta Annual Meeting, 2019
Qiong Xiao – Alberta Canola Producers Graduate Award in Canola Production Research, 2019
Qiong Xiao – CSC PhD Scholarship, 2019
Juli Wang – University of Alberta Doctoral Recruitment Scholarship, University of Alberta, 2019
Junhao Lu – Undergraduate Research Initiative (URI) Undergraduate Researcher Stipend, University of Alberta, 2019
Junhao Lu – First Class Standing, University of Alberta, 2019
Junhao Lu – Graduation with Distinction, University of Alberta, 2019
Udaya Subedi – University of Alberta Doctoral Recruitment Scholarship, University of Alberta, 2019
Kethmi Jayawardhane – Simone Demers-Collins Graduate Travel Scholarship in Agriculture, 2018
Kethmi Jayawardhane – Alberta Canola Producers Graduate Award in Canola Production Research, 2018
Lucas Falarz – George H Duff Travel Bursary for the CSPB conference, The Canadian Society of Plant Biologists, 2018
Lucas Falarz – Travel Award, Department of Biological Sciences & Faculty of Science, University of Manitoba, 2018
Lucas Falarz – Travel Award, Faculty of Graduate Studies, University of Manitoba, 2018
Lucas Falarz – International Graduate Student Entrance Scholarship, University of Manitoba, 2017
Trinh Nguyen – George H Duff Travel Bursary for the CSPB conference, The Canadian Society of Plant Biologists, 2017